Introduction
They have been described as "special, sheltered, confident, team-oriented, conventional, pressured, and achieving" (Howe & Strauss, 2000). On the other hand, they have been described as "self-interested, narcissistic, locked into youth concerns, demanding, impatient, rude, and possessing short attention spans" (Carlson, 2005; Hoover, 2009; Trotter, 2008). These are the characteristics of the 80 million plus "Millennial Generation," people born between 1982 and 2004 (Hoover, 2009).
CHARACTERISTICS OF THE MILLENNIAL GENERATION
The questions concerning who the "Millennials" are and how they will transform social policy, the workplace, and education have been considered in magazine articles, journal articles, books, and on television broadcasts, such as the CBS "60 Minutes" program. Among the most well-known books about the Millennial Generation is Millennials Rising: The Next Great Generation, by Neil Howe and William Strauss. Howe and Strauss maintain that the Millennials will "rebel" by behaving better, not worse, than their parents, and generalize that the Millennials are optimistic and engaged (Howe and Strauss, 2000). However, others contradict Howe and Struass' conclusions and suggest that Millennials lack critical-thinking skills and are uninterested in wrestling with ideas. Mark Bauerlein, Ph.D., author of The Dumbest Generation: How the Digital Age Stupefies Young Americans and Jeopardizes our Future, writes that today's young people dislike reading and writing and use technology primarily for their amusement. Jean M. Twenge, Ph.D., author of Generation Me: Why Today's Young Americans are More Confident, Assertive, Entitled - and More Miserable Than Ever Before, suggests that Millennials have a sense of self-entitlement, partly because they were raised under the influence of the "self-esteem movement." She also argues that social networking sites such as "Facebook" and "MySpace" have fueled the Millennials fires of self-absorption and narcissism (Twenge, 2006). Amidst the controversy and disagreement about the characteristics that define the Millennial Generation, there is one point of universal agreement - this is the generation that has "grown up with personal computers, cell phones and the internet and are now taking their place in a world where the only constant is rapid change" (Kohut, A., Parker, K., Keeter, S. Doherty, C. & Dimock, M., 2007, p. 1).
MEILLENNIALS, TECHNOLOGY, AND PEDAGOGY
The Millennials are the first generation who has been raised in an environment immersed in technology that was not invented in previous generations (Janusik & Wolvin, 2009; Nikirk, 2009). In a PEW survey about "Generation Next," 51% of the Millennials questioned revealed they deploy real-time technologies such as texting and instant messaging during a 24 hour period, compared to 26% of members of Generation X, 10% of Baby Boomers, and 4% of Senior Citizens. More than half of the Millennials said they express themselves on Social Networking Sites (SNS) such as Facebook and MySpace and are more likely than members of other generations to post a message on someone's personal SNS profile (Kohut et al, 2007). Millennials use mobile phones that allow them to send text messages, take photos, download videos, surf the internet, and maintain a calendar. They are the most technologically networked generation in history (Abram, 2007; Heathfield, 2009; McGlynn, 2008: Pardue & Morgan, 2008).
Should college and university professors, knowing that Millennials are technology-oriented, adapt their teaching style to engage this group of tech-savvy young people? Similar to the characteristics that describe the Millennial Generation, there is disagreement regarding the need to adapt. Richard T. Sweeney, a university librarian and Millennial Generation consultant, suggests that Millennials will indeed, change the way instructors teach. He contends that classrooms incorporate videos and computer games and wants professors to understand that Millennials learn from various media, often simultaneously. However, others maintain that professors are "killing higher education" when "administrators push professors to use technology in the classroom because they believe that is what today's students want" (Carlson, 2005, ¶ 11-12). Although many instructors have tried to meet Millennial student expectations by incorporating multimedia platforms into their teaching, others questions the need to "indulge" or "pander" to this generation (Hoover, 2009). The question remains, "How much is too much" when it comes to adapting teaching styles to match Millennials' technology-driven lives (McAlister, 2009)?
USING TWITTER TO PROMOTE STUDENT OUTCOMES
Twitter is a social medium that can engage students in the learning process (and need not be adopted merely to "indulge" Millennial digital natives). Because the use of Twitter can result positive education-related outcomes, it can be an effective means of connecting with Millennials. Twitter is a micro-blogging service used to send updates or "tweets" that are 140 characters or less. Users can create groups of specific people, such as classmates, who receive the updates and the tweets can be received on SNS and mobile devices. Hence, tweets are immediately available to students. Although only 22 % of millennial generation students report that they use Twitter, it can be a worthy tool to use to communicate and connect with digital natives (Sullivan, 2009, ¶ 2). Incorporating this micro-blogging service in the classroom allows for the opportunity to facilitate more discussion, involvement, and participation among students inside and outside of the classroom.
David Parry, Ph.D., an assistant professor of emerging media and communication, required his students to sign up for Twitter and found that students used the service to communicate about world events, issues, and news articles accessed outside of class that related to information talked about inside of class (Briggs, 2008; Miners, 2009). As illustrated in "Webscholar's"1 twitter screen shot below, Parry also claims the immediacy of sending and receiving tweets in real time and about issues unrelated to course content fostered a sense of community among his students that created more in-depth and exciting discussions during class (Young, 2008).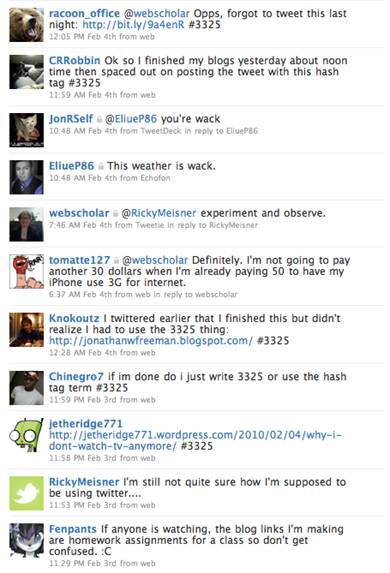 In his blog, "AcademHack," Parry provides ways to use Twitter in higher education that are beneficial to students and professors. For example, a professor can receive instant feedback from students if she or he is preparing a lecture and wonders if students will share a particular reference. Professors can also retrieve "back channel" information from their students. Back channel information allows a professor to see which topics receive the most tweets and can determine whether students understand a particular topic (Parry, personal communication, 2009). In addition, students can tweet each other and receive instant responses if they have questions understanding their coursework. Furthermore, as illustrated in the "Twitter Experiment," Twitter can also be used in large classrooms to encourage reticent students to participate in class discussions. In terms of communication courses, students can follow the tweets of a communication professional such a NewMediaJim who is a journalist for NBC. Students can also follow communication scholars such as Dan O'Hair, author of over 80 research articles and 16 books. Students can additionally track communication associations (such as the International Communication Association and the National Communication Association) and learn about the scholars who attend academic conferences and the latest communication research.
TWITTER APPS AND TOOLS
There are well over 500,000 applications and tools associated with Twitter and specific to each platform, be it Mac, PC desktop, laptop, or mobile phone device. Which application or tool one decides to use will depend largely on its usefulness in classroom settings. A must for any Twitter-related classroom discussion is the "hashtag," or # (followed by a word or acronym). Hashtags allow users to track and follow tweets related to a specific subject. For example, #comm3300 would be used to indicate any tweet related to the COMM 3300 class. "Academhack" has step-by-step instructions and an explanation of the logistics of setting up Twitter for use in the classroom. "Academhack" also suggested two videos that will be helpful to Twitter novices; the "Twitter Tutorial" on Viddler and "The Twitter Tutorial for Newbies" on blip.tv.
Other tools and applications that are beneficial to classroom use include: "TweetDeck," an organizational application for tweets; "Strawpoll," a tool which allows professors to poll students; "Twittercal," a tool that connects twitter to Google calendar; and "Grouptweet," which allows users to send direct messages to a specific group of people. In addition, "Twittonary" is useful for understanding and decoding twitter-related language (Andrew, 2009).
In sum, professors need not "pander" to our Millennial students but can engage them in the learning process by using the new social medium, Twitter.
---
1 The authors wish to thank Dr. Janet Johnson for permission to use a screen shot of her Introduction to Computer Mediated Communication course "Webscholar" twitter page.
Abram, S. (2007). Millennials: Deal with them! Part II. School Library Media Activities Monthly, 24(2), 55-58.
Andrew, P. (2009, March 17). 99 Essential Twitter tools and applications. Smashing Magazine. Retrieved 14 February 2010 from http://www.smashingmagazine.com/2009/03/17/99-essential-twitter-tools-and-applications/.
Bauerlein, M. (2008). The Dumbest Generation: How the Digital Age Stupefies Young Americans and Jeopardizes our Future. New York: Tarcher.
Briggs, L.L. (2008, May 3). Micro blogging with Twitter. Campus Technology. Retrieved 8 December 2009 from http://campustechnology.com/Articles/2008/03/Micro-Blogging-with-Twitter.aspx.
Carlson, S. (2005, October 7). The Net generation goes to college. The Chronicle of Higher Education, 7. Retrieved 17 December 2009 from http://chronicle.com/article/The-Net.Generation-Goes-to/1230.
Heathfield, S.M. (2009). Managing Millennials: Eleven Tips for Managing Millennials. About.com. Retrieved 17 December 2009 from http://humanresources.about.com/od/managementtips/a/millenials.htm?p=1.
Hoover, E. (2009, October 11). The millennial muddle. The Chronicle of Higher Education, 11. Retrieved 17 December 2009 from http://chronicle.com/article/The-Millennial-Muddle-How-/48772/.
Howe, N. and Strauss, W. (2000). Millennials Rising: The Next Great Generation. New York, NY: Vintage Books.
Janusik, L.A. and Wolvin, A.D. (2009). 24 Hours in a day: A listening update to the time studies. The International Journal of Listening, 23, 104-120.
Kohut, A, Parker, K, Keeter, S., Doherty, C. and Dimock, M. (2007). How Young People View Their Lives, Futures and Politics: A Portrait of "Generation Next." Washington, D.C.: The PEW Research Center for the People and the Press.
McAlister, A. (2009). Teaching the Millennial Generation. American Music Teacher, 59(1), 13-15.
McGlynn, A. P. (2008). Millennials in college: How do we motivate them? Education Digest, 73(6), 19-22.
Miners, Z. (2009, June 2). Twitter goes to college. U.S. News and World Report. Usnews.com. Retrieved 2 June 2009 from http://www.usnews.com/articles/education/2009/06/02/twitter-goes-to-college.htm.
Nikirk, M. (2009). Today's Millennial generation: A look ahead to the future they create. Techniques: Connecting Education and Careers, 84(5), 20-23.
Pardue, K.T. and Morgan, P. (2008). Millennials considered: A new generation, new approaches, and implications for nursing education. Nursing Education Perspectives, 29(2), 74-79.
Sullivan, L. (2009, June 2). Millennials among those who don't appreciate twitter. Online Media Daily. Media Post News. Retrieved 14 February 2010 from http://www.mediapost.com/publications/?fa=Articles.showArticle&art_aid=107081.
Trotter, A. (2008, October 8). Scholars diverge in assessing the intellect of 'digital kids." Education Week, 28(7), article 02774232. Retrieved from Academic Search Complete database.
Twenge, J. (2006). Generation Me: Why Today's Young Americans are More Confident, Assertive,Entitled - and More Miserable Than Ever Before. New York: Free Press.
Young, J.R. (2008). Forget e-mail: New messaging service has students and professors atwitter. The Chronicle of Higher Education, 54(25), A15.